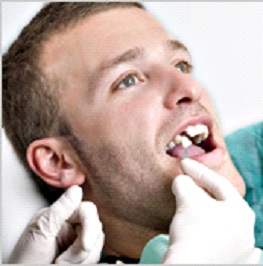 More than 5 million teeth are knocked out every year. Both adults and children are at risk. With proper emergency action, a tooth that has been entirely knocked out of its socket often can be successfully replanted and last for years. Because of this, it is important to be prepared and know what to do if this happens to you or someone with you. The key is to act quickly, yet calmly, and follow these simple steps.
Call your family or pediatric dentist for immediate attention.
Locate the tooth; hold it by the crown (the wide part, not the pointed end/root).
Remove large pieces of debris, but avoid rubbing or touching the root.
Rinse the tooth. Do not scrub. If using a sink, be sure to put the plug in the sink so that the tooth will not go down the drain if it is dropped.
Attempt to gently put the clean tooth back in its socket. Cover with gauze or tissue and bite down to stabilize it, if possible, or hold the tooth in its socket until seen by the dentist.
If the tooth cannot be put back into its socket, store the tooth in liquid until you see the dentist. Put the tooth in milk or saline solution ( contact lens solution with no preservatives). Do not soak or store the tooth in water because water will kill the cells on the root that are vital for successful reimplantation. If milk or saline solution are unavailable, the tooth can be stored in the cheek where saliva will help provide vitality to the root surface. If stored in the cheek, be careful not to swallow the tooth.
DO NOT LET THE TOOTH DRY OUT.