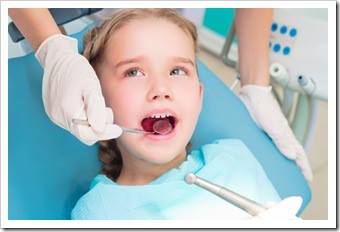 February is National Children's Dental Health Month. Teach your kids the importance of good oral hygiene. Tooth decay is the number one chronic illness in children. In the past year 51 million school hours were lost due to dental problems. ...Research has shown that if a child's tooth decay goes untreated, it can lead to tooth loss, speech problems and even loss of self- esteem.
Parents and caregivers can help encourage good oral health by:
* Encouraging a well-balanced diet that limits sugar and starchy foods. If these foods are included in the daily diet, eating them with a meal and not as a snack produces extra saliva to help rinse the food out of the mouth.
* Using fluoride toothpaste protects children's teeth (for children less than seven years old, use only a pea-sized amount on their toothbrush).
* Asking a dentist or doctor about how to protect child's teeth with dental sealants and fluoridated drinking water.
* Brushing teeth twice daily. Parents may need to help younger children with this.
* Flossing teeth daily. You'll need to floss for your children until they are around four years old.
* Scheduling regular dental checkups every six months.