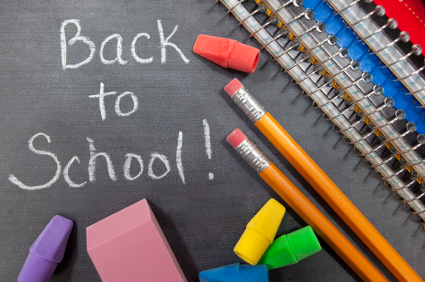 Going back to school with braces will be a new experience for many of you. The good news is that you are certainly not alone. A lot of patients prefer to get their braces on during the summer months. Just look around and you will see many new smiles under construction at your school!
Here are a few tips to help you transition into the school year while staying on target with your orthodontic treatment goals:
1. Remember to avoid crunchy and chewy foods at lunch. Also, be sure to cut questionable food into small bite size pieces and chew very carefully with your back teeth.
2. Take a couple of minutes after lunch to brush your teeth to be certain you don't have food trapped in your braces.
3. Scheduling your adjustment appointments in advance will improve your chances of getting after school appointments.
4. If you are wearing rubber bands, be sure you have them with you and stay on the schedule we have given you.
5. If you are wearing a retainer, be sure to bring your retainer case to school. That is one of the most common places that patients lose their retainers!
6. As tempting as it is in class and while studying, avoid chewing on pencils or even holding them between the teeth as it can place a large amount of pressure on the teeth. This can cause teeth to shift or crack, and can even break dental work.