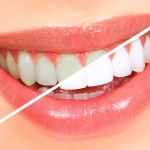 Allure provides an overview of how teeth whitening works and some of the differences between over-the-counter products and in-office whitening. The article features information from American Dental Association spokesperson Dr. Matthew Messina, who advises speaking with a dentist before whitening teeth. "It's always good to have a thorough examination done by your dentist before starting on a whitening program," Dr. Messina said. Allure includes Crest 3D White Whitestrips Glamorous White in its list of "the best at-home teeth whitening kits at the drugstore."
Bro Bible encourages readers to use Crest 3D White Whitestrips Glamorous White, noting they're the only whitening strips that have earned the ADA Seal of Acceptance.
To see the complete list of ADA Seal-accepted over-the-counter products, visit ADA.org/Seal. Dental professionals can also direct their patients to MouthHealthy.org, ADA's consumer website, for evidence-based information about teeth whitening.