In an article on infant development from seven to nine months, Mayo Clinic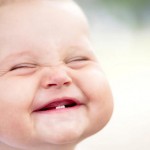 discusses teething, stating symptoms may include "drooling more than usual and chewing on just about anything." To help ease teething pain, the article states caregivers can rub the baby's gums with a finger or offer a teething ring. The article recommends brushing teeth as soon as they erupt, and using "a smear of fluoride toothpaste no bigger than the size of a grain of rice" for children younger than three years old.
MouthHealthy.org provides additional information for patients on teething and baby teeth.