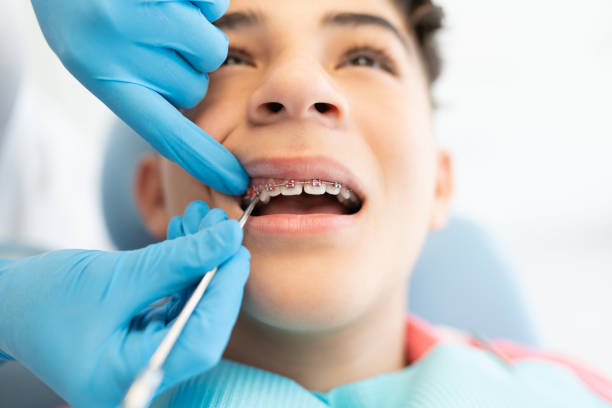 Braces and orthodontic treatment are used to correct "bad bites," or malocclusion (teeth that are crowded or crooked). In some cases your teeth may be straight, but your upper and lower jaws may not meet properly. These jaw or tooth alignment problems may be inherited or could result from injury, early or late tooth loss, or thumbsucking.
If you have an abnormal bite Dr. Pamela Johnson, an Orthodontist in Willowbrook IL,  may recommend braces or another orthodontic treatment to straighten out your smile. Correcting the problem can create a nice-looking smile, but more importantly, orthodontic treatment results in a healthier mouth. Not correcting an abnormal bite could result in further oral health problems, including:
tooth decay
gum disease
tooth loss
affected speech and/or chewing
abnormal wear to tooth enamel
jaw problems
Straightening your teeth can be accomplished in different ways. The kind of orthodontic treatment you have will depend on your preference and the options provided by Dr. Pamela Johnson. Traditional braces realign teeth by applying pressure. They usually consist of small brackets cemented to your teeth, connected by a wire, which is periodically tightened by Dr.Johnson to gradually shift your teeth and jaw. The brackets may be metal or tooth colored. Sometimes they are placed behind your teeth. Under the direct supervision of  Dr. Johnson, removable aligners are another option for treating orthodontic problems.
Orthodontic treatment can be provided by Dr Pamela Johnson, an orthodontist, who specializes in the diagnosis, prevention and treatment of dental and facial irregularities. Dr.Johnsons treatment will depend on the severity of your case.
Since abnormal bites usually become noticeable between the ages of 6 and 12, orthodontic treatment often begins between ages 8 and 14. Treatment that begins while a child is growing helps produce optimal results. That doesn't mean that adults can't have braces; healthy teeth can be orthodontically treated at any age.
Treatment plans will vary based on your situation, but most people are in treatment from one to three years. This is followed by a period of wearing a retainer that holds teeth in their new positions. Today's braces are more comfortable than ever before. Newer materials apply a constant, gentle force to move teeth and usually require fewer adjustments.
While you have braces it's important to maintain a balanced diet for the health of your teeth. Of course, a healthy diet is always important, but eating too many sugary foods with braces can lead to plaque build-up around your brackets that could permanently stain or damage your teeth. Avoiding foods like popcorn, corn on the cob, chewing gum, whole apples, and other sticky foods is also a good idea. Ask Dr. Pamela Johnson about foods to avoid while you are in treatment. Not all of us are born with beautiful smiles, but with a good oral hygiene routine, and a little help from orthodontics, you can have a beautiful and healthy smile.
At  Pamela Johnson Orthodontic Solutions in Willowbrook IL,we can offer easy to understand treatment options with exceptional outcomes. Call us to schedule your first orthodontic evaluation. - source/mouthhealthy.org