March 4th, 2015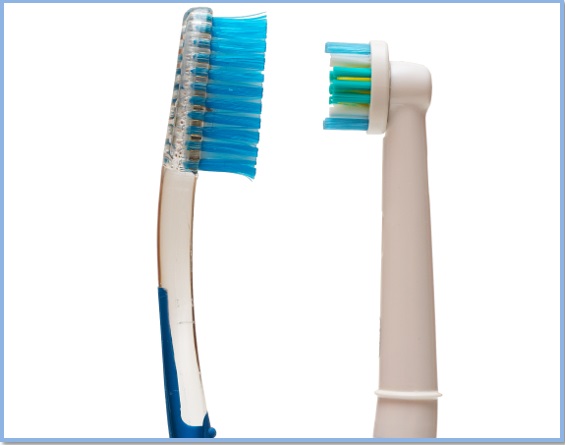 You live in the golden age of toothbrushes. Until a few decades ago, people used twigs or brushes made from animal hair to clean their teeth: not very soft and none too effective. Now you have a choice of manual brushes with soft, medium, or hard bristles. Or you might choose to go with an electric toothbrush instead.
Have you ever wondered whether manual or electric brushes provide better cleaning? Actually, they both do the job. The key is to brush and floss every day, regardless of the kind of brush you prefer. At our office, we like to say the best brush is the one you'll use. So if you prefer manual, go for it. If you prefer electric, turn it on. Both types have their advantages but both types will get the job done as far as removing plaque, if used properly.
Electric Toothbrushes
Provide power rotation that helps loosen plaque
Are great for people with limited dexterity due to arthritis or other physical limitations
Are popular with kids who think the electric brushes are more fun to use
Can come with variable speeds to help reduce pressure on sensitive teeth and gums
Uses timers to ensure you brush evenly across the four quadrants of your mouth and for the optimal two minutes each session
Manual Toothbrushes
Can help brushers feel they have more control over the brushing process
Allow brushers to respond to twinges and reduce the pressure applied to sensitive teeth and gums
Are more convenient for packing when traveling
Are cheaper and easier to replace than the electric versions
In many ways, the golden age is just beginning. There are already phone apps available to remind you to brush and floss. New apps can play two minutes worth of music while you brush, help you compare the brightness of your smile, or remind you to brush and floss throughout the day. Maybe someday, there will be an app that examines your teeth after brushing to identify spots you might have missed.