August 17th, 2020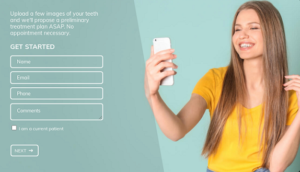 Do you need braces or Invisalign but don't have the time to make it into the office?  Let us help you discover your orthodontic treatment options directly from the comfort of your own home using your cell phone and our online Virtual Consult!
At Johnson Orthodontics, we are proud to offer complimentary Virtual Consults to help you decide which orthodontic treatment option is right for you.  All you have to do is click on the virtual consult button and follow the instructions. You will need to download a few photographs so that Dr. Johnson can evaluate your teeth and bite!  You will receive feedback from our office and recommendations about your next steps.
We believe that your time is valuable.  We hope you find our new feature helpful and contact us soon. Call (630)-887-1188 for more details.