October 26th, 2020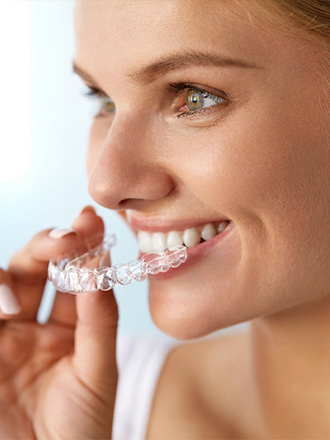 Many still believe that braces and orthodontic treatment is for children and teenagers. But that is not true. Orthodontic treatment is for patients of all ages. One type of treatment that adults can do is Invisalign® clear aligners.
How do they work?
Invisalign® clear aligners use the most advanced technology to give you your best smile. Using a series of aligners made with SmartTrack® material, Invisalign treatment can straighten your teeth with 75% more predictability.
First, Dr. Pamela Johnson scans your teeth and with a complete team of specialists, they'll craft a complete digital treatment plan. The aligners are trimmed along your gum line for optimal comfort and aesthetics and are designed to gradually and predictably adjust your teeth as you continue to live your life the way you want. With the combined help of Invisalign and Dr. Johnson, you'll gradually reveal your brand new smile.
And, it's more affordable than you think. Many dental insurance plans cover Invisalign treatments just as they would other orthodontic treatments. Ask Dr. Johnson and her team how to use your orthodontic insurance coverage to help pay for Invisalign treatments.